Emerald – Delivering Elite Level Digital Events Services In Dubai
Emerald Events Management Team is a dedicated digital events company in Dubai focused on applying its event management expertise and abilities to plan and execute digital events of all sizes. Whether you are interested in holding a small digital meeting or need help with executing a large-scale conference, we have a dedicated team of experts to assist.
A Digital Events Company in Dubai That Plans Ahead for Your Brighter Future
Things have changed drastically with the spread of the COVID-19. The way businesses operate and even the way they hold meetings and conferences is simply not the same anymore. Many people are suggesting the right thing to do is to hold Digital or Hybrid events that allow the safety and protection of all those involved to be paramount. If this is something your business is interested in, then Emerald Events Management Team is here to support you through the labyrinth of solutions.
From planning the overall concept of the event to arranging speakers and maintaining the highest level of coordination amidst the multiple technical aspects involved, our expert team can handle A-Z. When you get in touch with us, you can rest-assured that your aims and goals behind the event will be kept in mind, and steps will be taken to ensure that these are fulfilled.
Your Satisfaction is Our Aim
The secret to our success is that we give preference to listening to our clients' needs before adding in our expertise. We never over promise, and always go the extra mile to ascertain that we effective deliver services in advance of expectations. So – get in touch with Emerald Events Management Team and let the experts guide you through the digital maze.
With so many companies promoting Digital Events its tough to trawl through what is best for you as a business. Emerald has done the hard work for you by testing and assessing the platforms available on the market and then developing a superior system that has the functionality, speed and graphics required of a modern virtual event. We found that on the platforms that had the best graphics there was extremely slow loading speeds and a lack of mobile compatibility. On the systems that had good compatibility and low band width requirement the graphics and functionality was rudimentary indeed.
Understanding the basic pros and cons we experimented with multiple graphics engines, servers, digital programs and video conferencing tools to ensure we ticked all the boxes requested by our clients. What we have developed we believe is the ultimate solution to the task in hand. We named the platform the Emerald Wayfinder (E-Way) to help you navigate the software with ease. The principal – Highways connecting main roads as the E way connects real events to virtual ones and allows all your realtime products and services to be converted into digital assets.
A 3D digital map of your event is the starting point of all Emerald digital events from this point you can gain access to the halls or showrooms via unique ID codes. A digital avatar at the reception desk is the perfect way to meet and greet your guests. Your ID will allow access only to the areas subject to that code thus VIP areas require a double secure encryption to enter making the site perfect for high level sensitive information conferences.
The 3D Bolt-ons Graphics
This is where the fun begins as the world is literally your oyster. Emerald can create ANY landscape, building, office, showroom or expo to exacting detail. Once the assets are created they are yours to keep this means that you can use them for all time they do not hold a shelf life. Unlike other platforms that rent the site to you with E-way all assets and the platform are yours as long as you wish them to be displayed. This gives a real cost effectiveness to your initial outlay and when considered over several quarters becomes a real worthy marketing investment considering there are traditionally only minimal updates required at each new event.
Functionality
Whether we are creating a virtual 3D 360 exhibition stand, car showroom, virtual office or conference the principle functionality remains the same. 3D virtual worlds that allow the end user to browse the area realizing the digital content available as if they were at a real show. Screens content and audio playing in the virtual world in the same manner as the real world. Avatars are a good way to interact with guests and we have linked chat boxes or video conferencing available for your reception staff (that will be logged in on the back end of the system) awaiting Q and A or to provide basic information to your visitors.
Video conferencing can be simple by utilizing your own personal Webcams or we can add an extra touch of professionalism via one of our studio green screen set ups. The nature of the feed, security, interactivity, live or semi live being the deciding factor to which streaming network we connect you through. Emerald only use payed services for video streaming as free services are not reliable in our experience.
Augmented Applications
If the full digital experience is required we can set up branded digital games and activations to your platform to create excitement and a buzz about the event via our Augmented Digital Event Invitations, or we can add Branded Digital Games as a rewards competition that links the scores direct to social media platforms in order to create a fun interaction between platform and user. We also can create a whole AT Home Staff Experience Room loaded with games, activities, puzzles, questions and competitions to keep people motivated whilst working from home.
Whatever the requirement you can be sure the solution is only a short E-way away.
Let's Talk
For further information or to discuss your requirements, please give us a call at +04 589 7322 / +971 52 994 3325 right now. You can also email us at [email protected].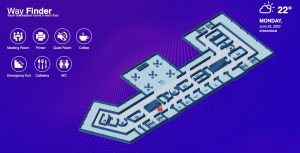 Amazon Digital Event 2020
Virtual Booth Explainer Video