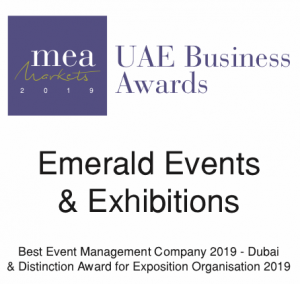 Emerald Q and A with MEA Markets UAE
First of all, how does it feel to have been given your award? What do you believe are the reasons behind your success?
Ans: We are delighted with the award and very humbled given the immense competition in our sector. We believe the difference has been our people and processes. Our staff have a real passion for what they do and it translates into all our events.
We are very proud of the team.
Please give us a brief overview of your company, your clients and the services you offer.
Ans:  Emerald offer Agency Services to 3 main sectors – Events – Exhibitions – Activations. 3 Senior heads run each department all with 15 plus years experience in the region. They are meticulous in planning and preparation of all our works. The oversight of all 3 departments is our MD Robyn Sokol who has organised many of the UAE 's special events over the years. She was recognised recently as one of the UAE's 100 most influential woman and we are very fortunate to have her steering the ship. We have delivered for a labyrinth of top clients over the years but we are certainly an integral cog to McDermott, DWTC, Mercedes, Cyberstein Robots, Nissan, Gates, Infiniti, Virgin, Timberland, Arabian Ethicals, ADNEC, Safe City Group, FBMI, VFI, Aspark, Viceroy and IHC. With more than 150 sucessful events last year it's practically an event every 2 days at Emerald, something we hope to build on for 2019.
When you first start working on a new project or with a new client, what techniques do you employ to ensure that the outcome will be an overall success?
Ans:  Firstly we try and bond with the people before we hear a word on their business. People come first. Once you understand the person you can better understand the business they represent. A thorough review of what they do how they do it and what their goals are come next. After this planing and executing something perfectly in line with their needs naturally follows. Throw in a bunch of hard work, long hours and endless passion and you can deliver almost anything.
Please tell us a bit more about the UAE currently, with specific regards to the region in which you are based. What are the challenges and opportunities of being based there?
Ans:  The UAE is one of the worlds most interesting environments to work and live. It's truly were people come to thrive. If you can think it you can be it in this part of the world. This high expectations lifestyle does come with difficult challenges in dealing with events associated paperwork and government procedures, as it is fluid and ever changing. For this reason a company needs to stay ahead of the curve in order to be compliant. Emerald has had many years homing these skills and we have a unique understanding of the region and its processes that allow us to support our client base in an effective and controlled manner. We love the UAE and its people and it gives us an immense platform to base our Global Operations.
What, in your opinion, are the key advantages to being based in UAE? Are there any core areas of growth that you believe make it the ideal hub for your business?
Ans:  We are an integral part of a few Key industries that are very well represented by the UAE. These are Oil and Gas, Automotive, Security, Defense and Travel. Emerald is embedded and committed to each sector and we use this local knowledge gained dealing with very high end and often demanding clients, to grow our reputation Internationally.
What makes your firm unique? How do you distinguish yourselves from your competitors, and present yourselves as the best option for your clients?
Ans:  We have Monsters and Robots of course.. haha.
In all seriousness, I believe we are dedicated more than most in our class. I reiterate the word passion and not lightly as it is our corps value. We employ, teach, motivate and enthuse it in all we do and without the spark that makes Emerald tick we would just be another events agency on the list of hundreds in the UAE. We retain our clients like family, we do not advertise that much in all honesty as we have a steady and committed repeat client base. We are more focused on managing our growth and ensuring we do not get too big too quickly causing us to lose our focus and quality. We are dedicated to sustainability (being one of the only stand providers who offer the Eco Booth) We keep a low overhead to keep us cost effective and we know the true meaning of value. We learn evolve and maintain an operational and digital superiority to our contemporaries, offering the latest wow activations without a 6 zero figure. We train our staff to manage accounts with military precision, yet not forgetting to smile as often as is possible, employee happiness is priority. It is these USPs we can ill afford to lose for short term financial gains, that is who we are.
Tell us about the culture within your company and the things you do to maintain and develop it. What do you look for when attracting new staff and how do these traits help them integrate into your company?
Ans:  The Culture is hard work and continual learning based from a happy and energetic environment. I guess its like a mini google.
Our staff need to be ready for the challenges ahead that means motivated, educated and glass full people. This industry moves so fast and you need to move quicker.
The experience we hold at Emerald is un challengeable our HODs have worked with the biggest names in the World. They are excellent mentors and motivators for our juniors and it shows, no one at Emerald hates their Job and turns up for a paycheck, it simply could not happen, we wouldn't allow it. Staff are genuinely sad to see the weekend if we don't have an event on (and you think I am joking… but I am not). That is the level we are at, we all love what we do.
When working in an industry that is constantly changing, what measures do you take to ensure that you are at the forefront of any emerging developments and trends?
Ans:  Research is key and having staff of all ages set across multiple sectors is important. We will pull in our most junior staff members on brainstorming mornings (and not just to make the seniors tea)….Young minds are very creative and we wish to hear what they have to say and how they say it. We are constantly learning and self educating our own business model. It is a demanding industry for sure and you learn something new at each event you deliver. We teach no failure is a failure if you learned something new from it.
How does your firm use technology to provide the best quality services to clients?
Ans:  Technology is a massive part of Emerald and we use it across all 3 departments each and every day. We have a fantastic range of products and software that aid our clients events. Emerald is at the cutting edge of digital activations and tech. One of our ambitious projects of late is to plan and build a virtual theme park in Abu Dhabi filled with a multitude of Augmented reality and Holographic attractions. We hope to see this a reality in 2019.
What does the future hold for your firm? Do you have any future plans or projects you would like to share with us?
Ans:  The GNDT Expo that we organised towards the end of 2018 was a great success, bringing in 51 nations to the UAE for multiple conferences and an exhibition for the field of Non Destructive Testing, something that had never been done in the region and likely adding to our award nomination. We have huge demand for the next one all ready and that is something we are keen to look into for 2020. It took 18 months hard work to organise the first one, so plan on mid March 2020 for the next serving.
Within the wider UAE business market, what upcoming developments do you foresee and how will your firm adapt around these?
Ans:  Expo 2020 is the next big step for the UAE and Emerald is embedded and committed to its success. We often support UK companies who wish to attend Expo 2020 in order to impart our regional business knowledge and expertise to assist. The Expo will demand many new challenges for the region and Emerald intends to be at the forefront of developments around this. We are ready to plan, execute and deliver our clients events to perfection.
Thanks Emerald Hannah Stevenson | Awards Editorial Manager
The Pleasure was all ours. Robyn Sokol GM Emerald Events